Well, as promised, I am going to play catch up tonight from the 5 day's I haven't been online.
I weighed in today. I was up .4 (or something, I forget right now) which I am okay with because
a) I got on the scale this morning and I was actually down, so I know it was just my food (or lack there of) today at work
b) It was a short week for me, as I weighed in on Saturday
c) The last 2 weeks I weighed in in the morning, and I know my body changes so much during the day because of what I eat/drink so I think untimately I was really down.
I was talking to Lindsay tonight, and I am going to drop by points per day by 1, because I have been in a plateau/maintaining since basically April. The upside to that? When I finally get to my goal I know I won't have a problem maintaining. haha
So update on this week:
Sunday-After work a few of the WW Awesome 20's got together for a pot-luck at Ashley's. Ashley and I have only met a couple times, but she is such a sweet person and so inspirational. I can't wait to get to hang out with more. Check out her story and battles
here
.
Onto the food portion on the afternoon (since that is why we were all there!) There were SO many delicious options.
Ashley made some raw taco's in rice paper wraps. They were filled with chopped nuts and some delicious herbs. Amazingly delicious. I am going to have to scope out some of those rice wrap's and experiment with them.
We had so many salad options. One of Ashley's friends, Lindsay, made a Beet and Lentil salad. (Apparently I like beets! Another one to add to the list) We also had a pasta salad, and another type of salad. Sherri made salmon cakes and for DESSERT! Jess made 1 point chocolate chip cookies, and Kate made a WW Chocolate cake. Because there was eggs in both, I passed, however, I did enjoy a plate full of berries! :) I made balsamic roasted veggie flatbread pizza's! They were delicious! I added chicken to a few of them. I also made some "Ashley friendly" on gluten free english muffins, with veggies minus mushrooms, and no cheese or anything dairy.
All in all a WONDERFUL way to spend a Sunday afternoon and I am looking forward to another day when we can all get together.
Picture's from this amazing day will come soon, as I am waiting for some to be posted somewhere so I can steal them! :)
I don't have a lot to report on the food front this week, because I went to bed without dinner 3 night's this week. BAD, I know, but I have just been SO exhausted. I am going to TRACK TRACK TRACK my food this week, as I feel that I may be lacking in a few vitamens and things since going vegetarian. I know thing's like this take time to adjust to though, so I am not too worried.
It's 10:20PM, I have to work at 7:30AM and my eyes are slowly closing as I lay here on the couch watching Ace of Cakes. I'm happy that I was able to stay awake tonight and watch So You Think You Can Dance. I think the right people went home. Although they are all AMAZING dancers, and have unbelievable talent, for the quality of dance that they expect on the show, the two that went home tonight just didn't have it all.
Speaking of So You Think You Can Dance, when the Canadian season starts (I think in August it is?!) hopefully you can see my audition, and into the top 60. I can find myself in this photo, can you?
Photo curtosy of
CTV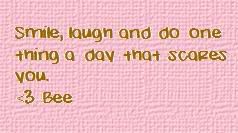 P.S.
Another blog name change, this time it's staying like this. I promise.
I'm human, we are creature's of change, I can't help it! ;)
Find the full song lyrics
here
.
Ordinary Miracles, Sarah McLachlan
P.P.S. Sorry if this came up as "published" 3 times, I fail to proof-read.