I love Tuesday's! It is my favourite day to teach, because I just love my classes!! I am bringing my video camera today, and if the kids look good I'll video tape them and put them on youtube, and be sure to let you all know! My Tuesday classes are all recreational, so the student's only take one or two classes a week, so technically they have a lot of work to do, but they all love coming to acro class, so I think that's why I like them so much. I adore teaching competitive too, but the rec kids just aren't so serious and "watch me! Watch me!" like my comp student's are!
After I blog today I am going to run out and pick up a few thing's I need to add to their costume's/prop's as recital's are only 4 weeks away! AH!
On my list:
*children's size bath robe for my "Houdini" inspired routine's. The story of these is that there is a little girl sleeping at the beginning and she wakes up in this world of magic and becomes a part of it. I did two routine's like this as they both perform on seperate nights. One of them (the younger class) is a routine that uses "blanket's" (you know those things magician's use?) And the other one is more Houdini "the escape artist" type, and they are all chained up in the beginning and slowly break free
*chains...to chain them up with. I am thinking of using those chains that you hand from the celing for stuffed animal's, as they are very light weight, and I don't want the kids dancing with an extra 10 pounds of chains attached. I am going to spray paint them silver or gold, not sure which colour yet.
*soup bowls...for the routine I did to "Animal Cracker's in My Soup" I have bowls right now, however, I wasn't thinking the day I bought them, and they are ceramic..let's just say we've had 3 break so far, and that's the last thing I want to happen on stage.
Alright, onto food!
A couple weeks ago I made a pita pizza. I LOVE pizza so any way to make it more points friendly is at the top of my list! I used a whole wheat pita, 1/4 cup of sauce, green pepper, chicken and 1oz of cheese, served with steamed lemon asparagus on the side.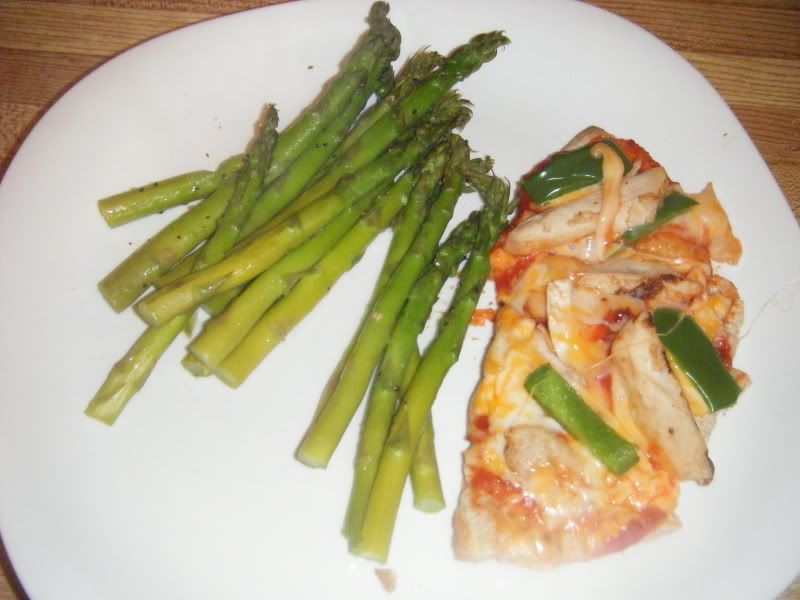 As promised, here is a picture of the butternut squash sheppard's pie that I made the other day. I topped it with pumpkin pie spice, which is my favourite spice to use these day's!
Okay..maybe no picture. For some reason it won't upload, and I'm pressed for time, so I'll try again when I get home tonight.
And then this morning's brunch (I woke up a little late for breakfast) included a pancake (yummy..haven't had a pancake in who knows how long!) with a sliced banana, and a Skinny Vanilla Latte! (I had to run to work to check what time I start tomorrow morning...7am..gah) so I got a latte while I was there! :)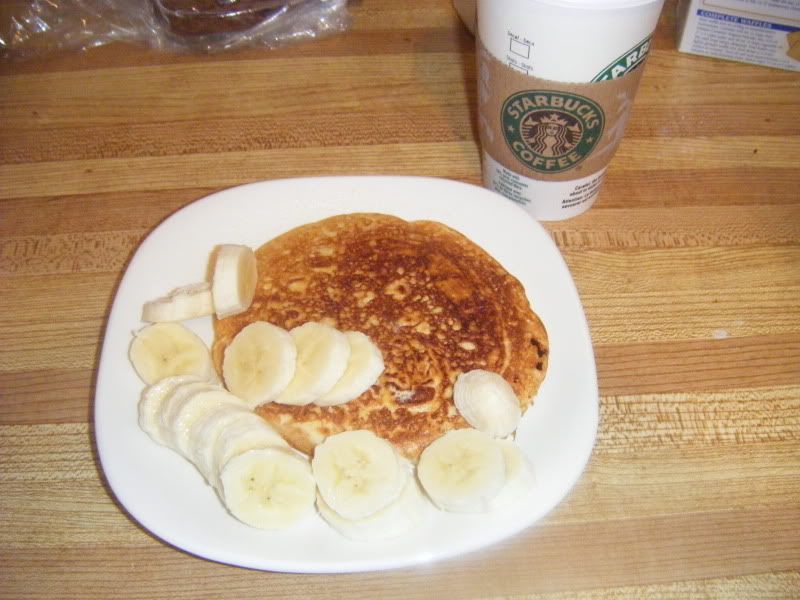 Alright, off to do a little shopping and then to the studio! On tonight's music list-Hannah Montanna the Movie Soundtrack...jealous? I thought so! ;)
*There's always gonna be another mountain, I'm always gonna wanna make it move, always gonna be a nother battle, that sometime's I'm gonna have to loose, ain't about how fast I get there, ain't about what's waiting on the other side. It's the climb*