As promised, here I am to blog about my meals!
I had to work early this morning, and put in a long day (7am-6:30pm) so that I can get out early and go to the LuLu Lemon sale on thursday!
So, I took most of my food with me for the day!
Breakfast was Weight-Control Oatmeal, topped with a bit of brown sugar and some raspberries on the side!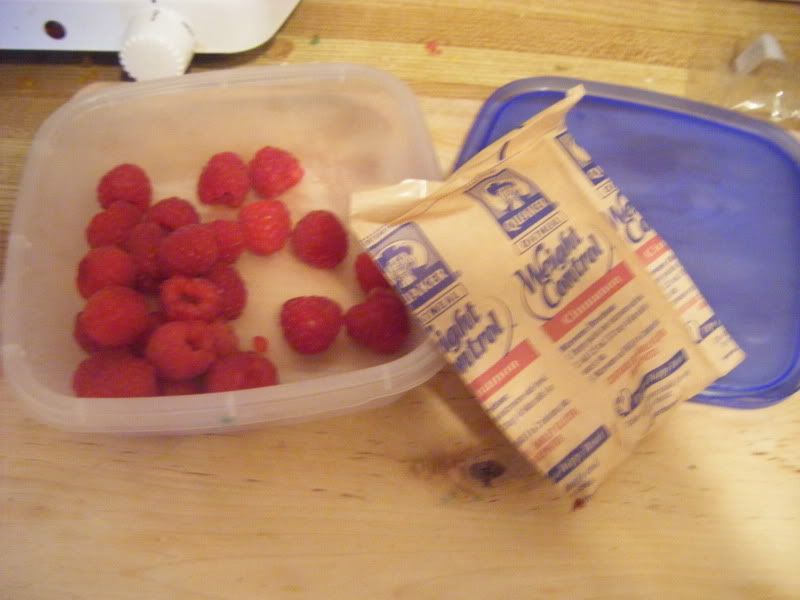 Then..work got busy, and I got STARVING! So I enjoyed my apple, and a Weight Watchers 2point brownie bar, that I failed to take a picture of!
By the time lunch came, I was *famished*
So, i enjoyed half a tortilla, with 2 points worth of part skimmed mozza/cheddar put in the microwave for 45 seconds. While delicious, it was super small, so next time I'll add some chopped veggies to it as well! Cucumber slices on the side!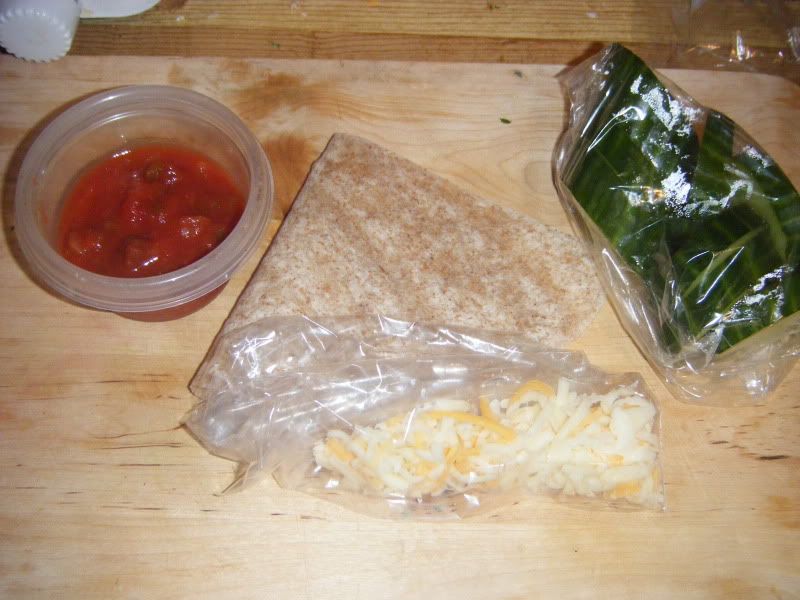 I washed it down with 3 bottle's of water, it my pretty new lulu bottle.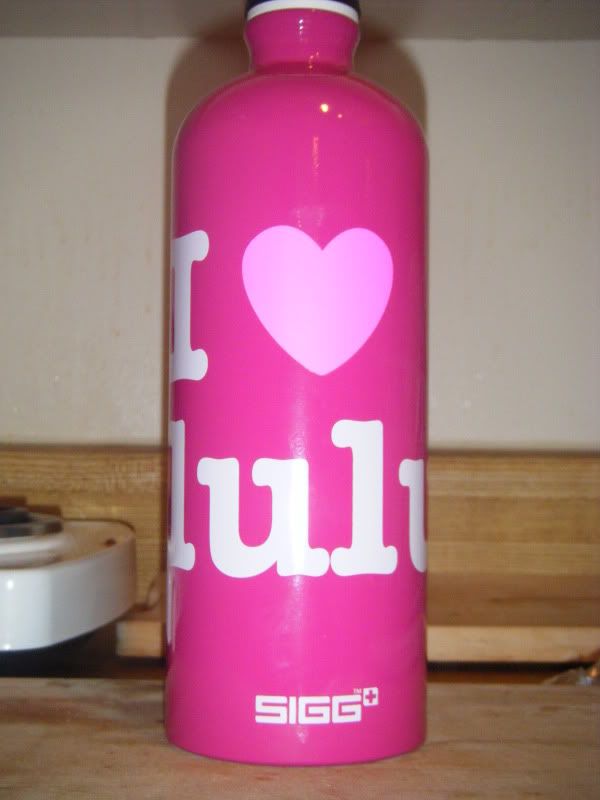 *My name is Becki, and I am a water bottle'oholic"
It's bad. I own too many water bottles. I'm talking...over 15. Stay tuned! You'll see in the next coming days.
In the afternoon I started feeling super ill. I have cysts on my left ovary, and every couple months they get really sore. Today I was almost falling over they were so painful. But, I am very commited to my job, so I had to stay until I got everything done. So, I didn't eat anything in the afternoon. I got home and sat on the couch for over an hour, and hardly moved. I debated going to bed and not eating dinner, but I was getting hungry, so I threw together a super quick salad.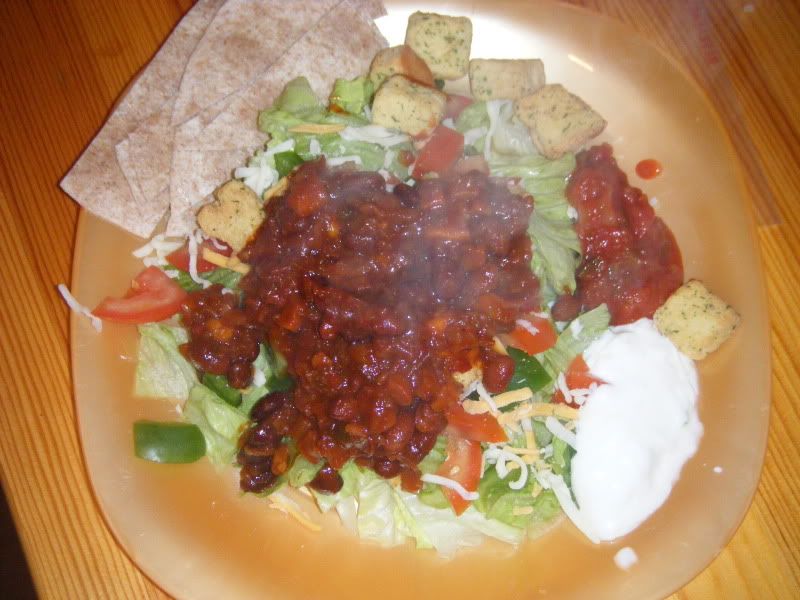 (Check out the steam coming off of that thing!)
Cue
2 cups of lettuce, half a chopped green pepper, 1oz cheese, half of a tomato, a few crutons for some crunch, 3/4 cup of vegetarian chili and some sour cream and salsa on the side. All together it took me about 4 minute's. It was fantastic!
I really have to make a point to eat more different type's of salad's. I say that I don't like salad, but really, I just don't like the usual lettuce, veggie and dressing salad's. Do you have any yummy salad idea's to share?
Tomorrow is a staff BBQ/Put-luck. I'm in charge of a vegetarian/vegan alternative (Licks Nature Burger's) and a vegetarian friendly salad. I thought it was the perfect time to try
Ashley's

C

o

l

o

u

r

f

u

l

Salad.
I doubled the recipie, and just added a little bit of olive oil and some garlic salt. It's currently in the fridge, awaiting tomrrow's BBQ. And it looks ah-may-zing. (Okay, so maybe a had a little bite, and it tastes just as amazing as it looks!)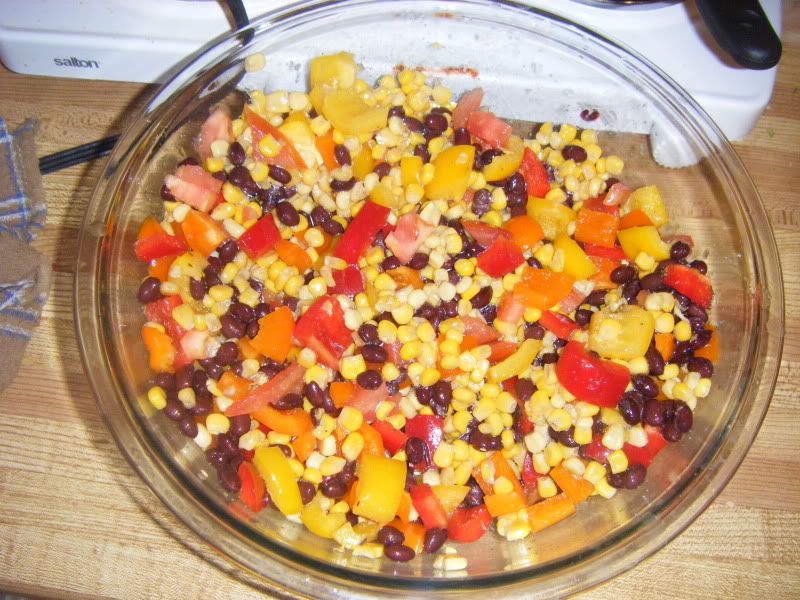 Alright, that's it. I need to get in the bath and try and get this tummy of mine to relax.
I hope you all had a great day, and filled your plates with half veggies!